Scroll down to Bonus Spoiler Bits for the latest updates!
---
If you just finished binging Sabrina on Netflix and hungry to know what's next, keep reading!
Here's everything we know about The Chilling Adventures of Sabrina Season 2: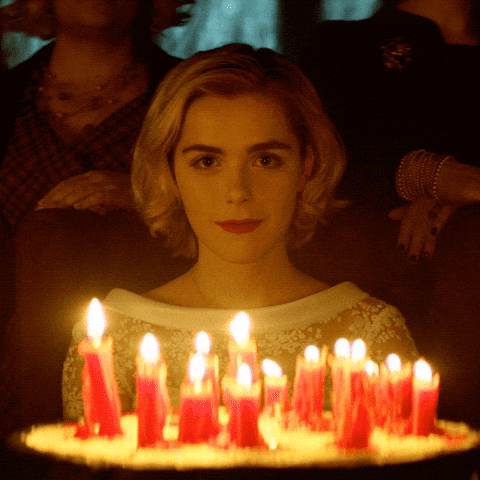 For starters, it's time to mark your calendars witches!
Netflix has set the official premiere date of The Chilling Adventures of Sabrina season 2. The 10-episode sophomore run will be available for streaming on April 5, 2019. Check out the official teaser promo above!
In addition, the witch teen drama is also getting a Christmas special episode titled "A Midwinter's Tale," set to debut on the streaming giant on December 14th.
(You may check out the first look photos in the gallery below.)
Praise Satan! I mean, Praise Santa! @sabrinanetflix has a X-mas Special dropping on 12/14!! I love this episode of #CAOS!! @netflix pic.twitter.com/A5DPs4Dajv

— RobertoAguirreSacasa (@WriterRAS) November 12, 2018
Per Netflix: "A Midwinter's Tale is set during the Church of Night's celebration of the winter solstice. On the longest night of the year, families gather around the Yule fire to sing pagan carols and tell ghost stories. The holidays are also a time for guests and visitors — both welcome and unwelcome — and you never know who'll drop down the chimney."
Kiernan Shipka, Miranda Otto, Lucy Davis, Ross Lynch, Michelle Gomez, Chance Perdomo, Jaz Sinclair, Tati Gabrielle, Adeline Rudolph, Abigail Cowen and Lachlan Watson all are set to appear in the special.
Check out the trailer below!
On casting, the series has added Alexis Denisof, Jedidiah Goodacre and McKenna Grace for its upcoming second season.
Per Deadline, Grace will guest star as "Li'l Sabrina — a dead ringer for Kiernan Shipka's teenage Sabrina. During the holiday special (which debuts December 14 on Netflix), we'll get to see what Sabrina was like as a precocious pre-teen witch. While the Church of Night celebrates the Winter Solstice, Li'l Sabrina goes out of her way to ask Santa for something special."
Denisof will play "Adam Masters, the boyfriend of Mary Wardwell (Michelle Gomez). Handsome and charming, Adam returns to Greendale after a stint overseas working with Physicians Without Frontiers—unaware that his fiancé has been taken over by the demoness Madam Satan."
Goodacre will play "warlock Dorian Gray, the owner of Dorian's Gray Room, an exclusive nightclub. He is an enigmatic gentleman of an indeterminate age and is very good at keeping secrets, especially his own — a cursed portrait he hides from prying eyes."
Looking ahead, Sabrina's portrayer Kiernan Shipka hinted at some new challenges abound on Harvey's arc -- following the introduction of Sabrina's new suitor, Nicholas.
"The boys are very representative of Sabrina's duality in a lot of ways. It's actually quite symbolic, and throughout the show you see how she handles that," Shipka said.
"But people should worry about Harvey, I think. There are some hard times for Harvey. A handsome young warlock doesn't show up in Sabrina's life and not shake things up a little bit."
BONUS SPOILER BITS:
Updated 12/17:
Expect to see more Riverdale Easter Eggs moving forward, teased Acasa:
"I think it's fun to see little Easter eggs, so we try to sneak them here and there. That's something that we continue to do on the show. I think the fans of both shows love it."
Sacasa on how season 2 differs from season 1:
"It's a little more fun. It's a little sexier. Now that we know everyone and we've really established the world, we can play in it a little more rather than build it. It feels a little more ambitious and rollicking than part one."
---
Creator Roberto Aguirre-Sacasa shared his idea with EW about a potential Riverdale crossover:
"I think there'd be a great episode where the Riverdale kids hear about a haunted house in Greendale and try to break in and it's Sabrina's house. There's totally a universe where that happens. Or now that we've got Sabrina and Riverdale, maybe there's a standalone Afterlife movie or something that we can do combining both casts."
Season 2 might be darker than season 1, said Shipka: "It goes in a different direction. We see more different characters. It deals with a different side of things."
Sabrina's pet, Salem, is getting a backstory that may or may not see him talking.
Christmas Special First Look Photos