First off the pop sensation, Nelly Furtado is set to visit the famed zip code. And yes she will be preforming (!) at least one of her songs from her new album Spirit Indestructible. The song she's set to preform has yet to be released.
Her episode will air sometime in November so don't forget to tune in.

Ryan Lochte , the U.S. Olympic swimmer, has also landed a role on 90210. He will be playing himself. ("How does he fit in?" you ask) Well he will cross paths with recently reunited couple Naomi (Anna Lynne McCord) and Max (Josh Zuckerman) at a resort, where they are attempting to strengthen their relationship.
Ryan Lochte's episode is set to air on Oct. 29.
Denise Richards (FX's Anger Management, and she's also Charlie Sheen's Ex)  will play Gwen in 90210′s 100th episode!  Gwen is described as a sexy West Beverly High School Alum turned wealthy socialite, and is the head of a very exclusive women's club filled with powerful women. There is nothing Naomi wouldn't do to become a member of this club,  until she realizes that it is just a grown up "mean girl" clique.
Her episode airs Nov. 26.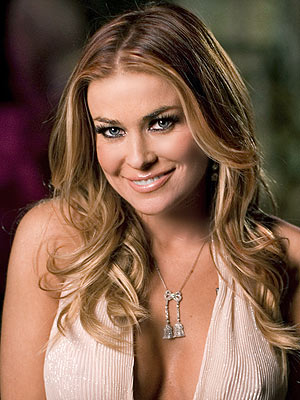 Carmen Electra has scored a recurring spot on the series and she will be playing a character called Vesta. Vesta is said to be a cross between Dita Von Teese and a Pussycat Doll (very sexy). She owns her own contemporary burlesque troupe, and who ropes in Silver(Jessica Stroup), and gets her to do all sorts of naughty things.
Carmen Electra's episode also airs November 26.
Looks like 90210′s 100th episode will be packed!
Finally, Carly Rae Jepsen will be appearing in the season opener as herself preforming "Call Me Maybe".
Remember 90210 fans. Season 5 is set to premiere on Monday, October 8.